HOME
> Facilities and pricing
Facilities and pricing
A safe, comfortable space in Tenjin
newly furnished and beautiful!
Located in the Imaizumi area at the center of Fukuoka, TECH PARK KIDS features a pleasant, cafe-like, open space design. Parents and guardians are welcome to come in to get their children after work.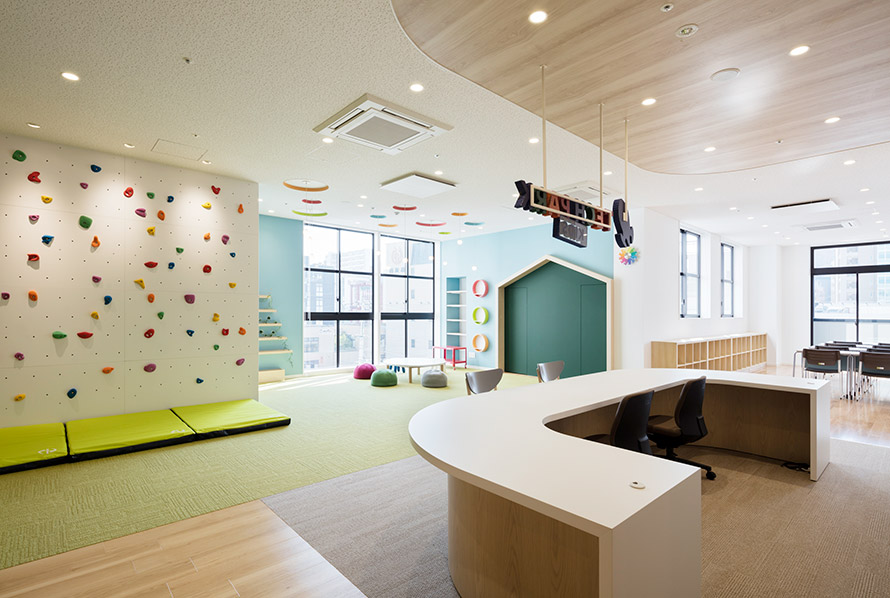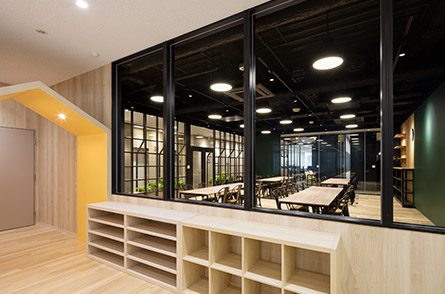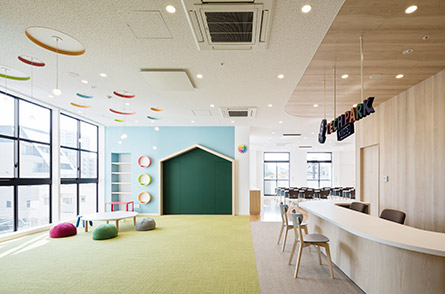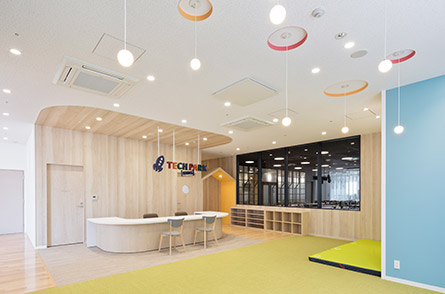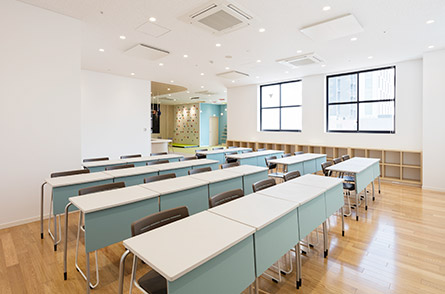 Getting here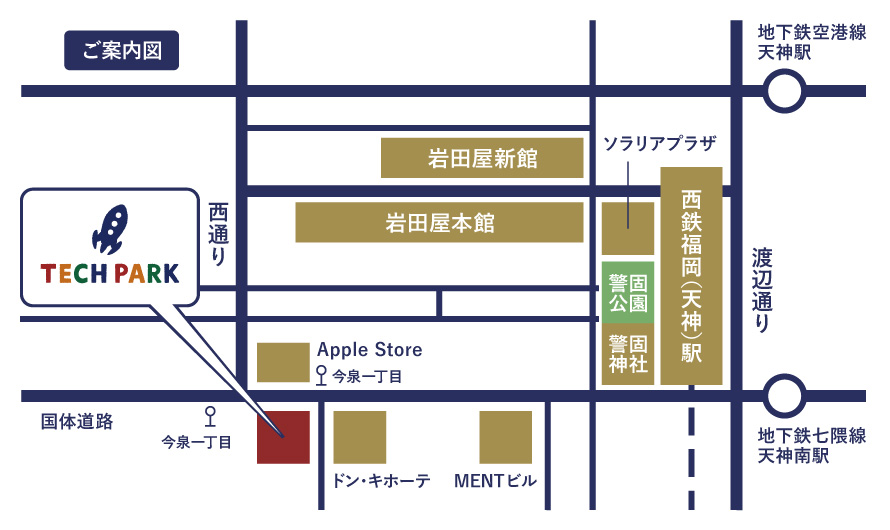 Address:

〒810-0021 Fukuoka-ken, Fukuoka-shi, Chuo-ku, Imaizumi 1-19-22
Tenjin CLASS 3F Groovenauts, Inc. [MAP]
Transportation options:

By Nishitetsu train: 5 minutes walk from the south exit of Nishitetsu Tenjin Station.
By subway (Nanakuma Line): 6 minute walk from the exit #1 of Tenjin Minami Station.
By subway (Airport Line): 8 minute walk from exit #2 of Tenjin Station.
By Nishitetsu bus: 2 minute walk from the Imaizumi 1-chome bus stop (in front of the Apple Store and ViVi Fukuoka).
Services and courses
Service overview
We offer our basic services for a monthly membership fee, as well as additional optional services.
Basic services

Weekday afterschool and long vacation care
Technology-focused curriculum
Get notified when your child arrives or leaves
Life skills and study habits support
Snacks
Optional services

Extended hours
Lunch and dinner
Additional day
Transportation service
Choose your course
Select between your course and choose which days to attend (M–F).
Afterschool Course
Basic services
+
Optional services
Kids spend afterschool hours engaging with all sorts of technology. We work with families to make individualized plans for homework/life skills support.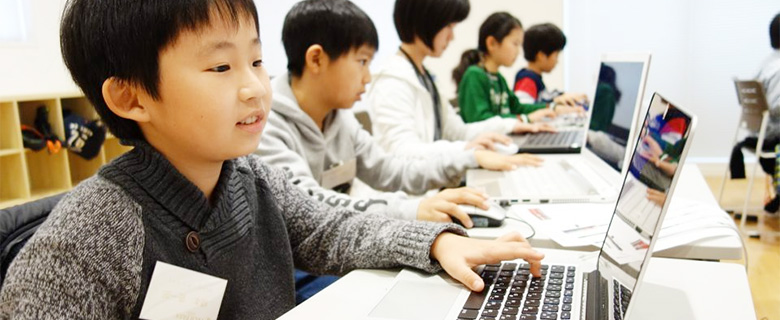 Curriculum Course
Technology classes
+
Optional services
Attend for tech-focused activities only. Kids choose their own themes and goals, learning new skills as they use all sorts of tech.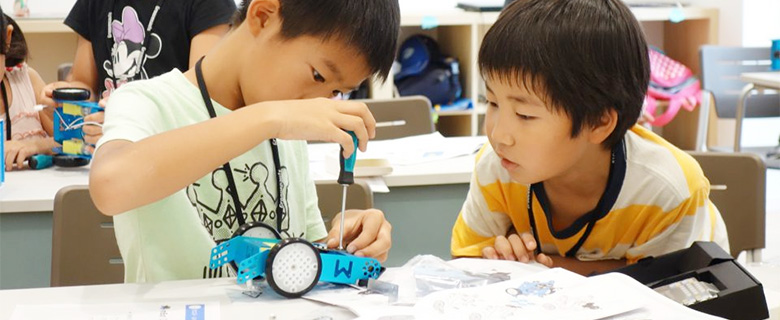 Service hours
Afterschool course
General service hours
Normal month
Weekdays 14:00–19:00
Long vacations
Weekdays 9:30–19:00
Extended hours
Year round
Weekdays 19:00–21:00
Special days
School entrance/closing ceremonies,
graduations, and substitute holidays for events
9:30–14:00
19:00–21:00


*Apply by the end of the previous month

School closures
9:30–14:00
19:00–21:00


*Only healthy children may attend during flu-related school closures

TECH PARK holidays
Sat/Sun, holidays, New Year's, Obon
Curriculum course
General service hours
Classes on weekdays 14:00–17:00


*Register at least three days before class

TECH PARK holidays
Sat/Sun, holidays, New Year's, Obon
Pricing
Enrollment and service fees
(pre-tax)
| | |
| --- | --- |
| Enrollment fee | ¥20,000 |
| Materials fee | ¥3,000/month |
Number of days


(Select from M–F)

Afterschool course


(General service hours M–F)

Curriculum course


(17:00–19:00 M–F)

5 days/week
¥54,000
¥36,000
4 days/week
¥48,000
¥32,000
3 days/week
¥39,600
¥26,400
2 days/week
¥31,200
¥20,800
1 days/week
¥24,000
¥16,000
Optional service fees
Afterschool members can select from the following optional services.
Option
Description
Notes
Price
Additional day
Purchase additional days
For those attending 1–4 times per week
Weekdays 14:00–19:00
¥4,500
Additional day
(During long holidays)
Purchase additional days
(for those attending 1–4 times per week)
Weekdays 9:30–19:00
¥6,000
Extended hours
Extended care per 30 minutes
Weekdays 9:30–14:00
Weekdays 19:00–21:00
¥500
Lunch and dinner
Lunch: only available during long vacation hours
Dinner: only available during extended hours
Allergy accommodation available
Can be ordered up to 3 days prior
¥600/meal
Transportation
Taxi pickup/drop-off
Can be ordered up to 3 days prior
Actual cost
Staff escort for transportation
Taxi: available within 2 km/30 min radius
Walking: available within 1 km/30 min radius
Can be ordered up to 3 days prior
¥1,000
Payment
Payments processed through bank withdrawal. First and second months are paid through bank transfer.
Basic service fees (monthly membership costs) are withdrawn the month prior, while fees for any optional services used are withdrawn from your specified account the following month.
Managing company
Groovenauts, Inc., TECH PARK KIDS
Office information:

Phone: 092-982-0180
Fax: 092-986-2793
Website: http://www.groovenauts.jp/