TECH PARK student wins prize at Fab 3D Contest for third straight year!
A 4th grader who attends the Computer Graphics Tech Course at TECH PARK won a special prize at the Fab 3D Contest 2019 for her work titled "Interview at FUKUOKA city."

The Fab 3D Contest looks for talented people working with tech like 3D printers, IoT, and more. With the theme "City Planning with Fab," this year's contest gathered ideas for ways to link new technology with meeting sustainable development goals (SDGs), solve community problems, and use fab to improve our cities in the future.

Fab 3D Contest 2019
https://www.fab3d.org/
---
TECH PARK staff member Ms. Ayumi and 4th grader "T" entered the team division for this year's contest. Today's post will cover everything from planning their project to the awards ceremony.
Searching for the seed of an idea
City planning is a difficult theme even for adults, so we started by thinking together about what it actually means.
Once T decided she wanted to make a dice-based board game, we played lots of different board games for research. One of the teachers at TECH PARK is a board game master, so we have lots of interesting games available to try.
While we researched, we wrote down the various features from the board games like the player pieces, types of cards, roles, and that sort of thing. Playing board games with friends involves a lot of explaining rules and the like, so it was also a great way to gain valuable communication skills.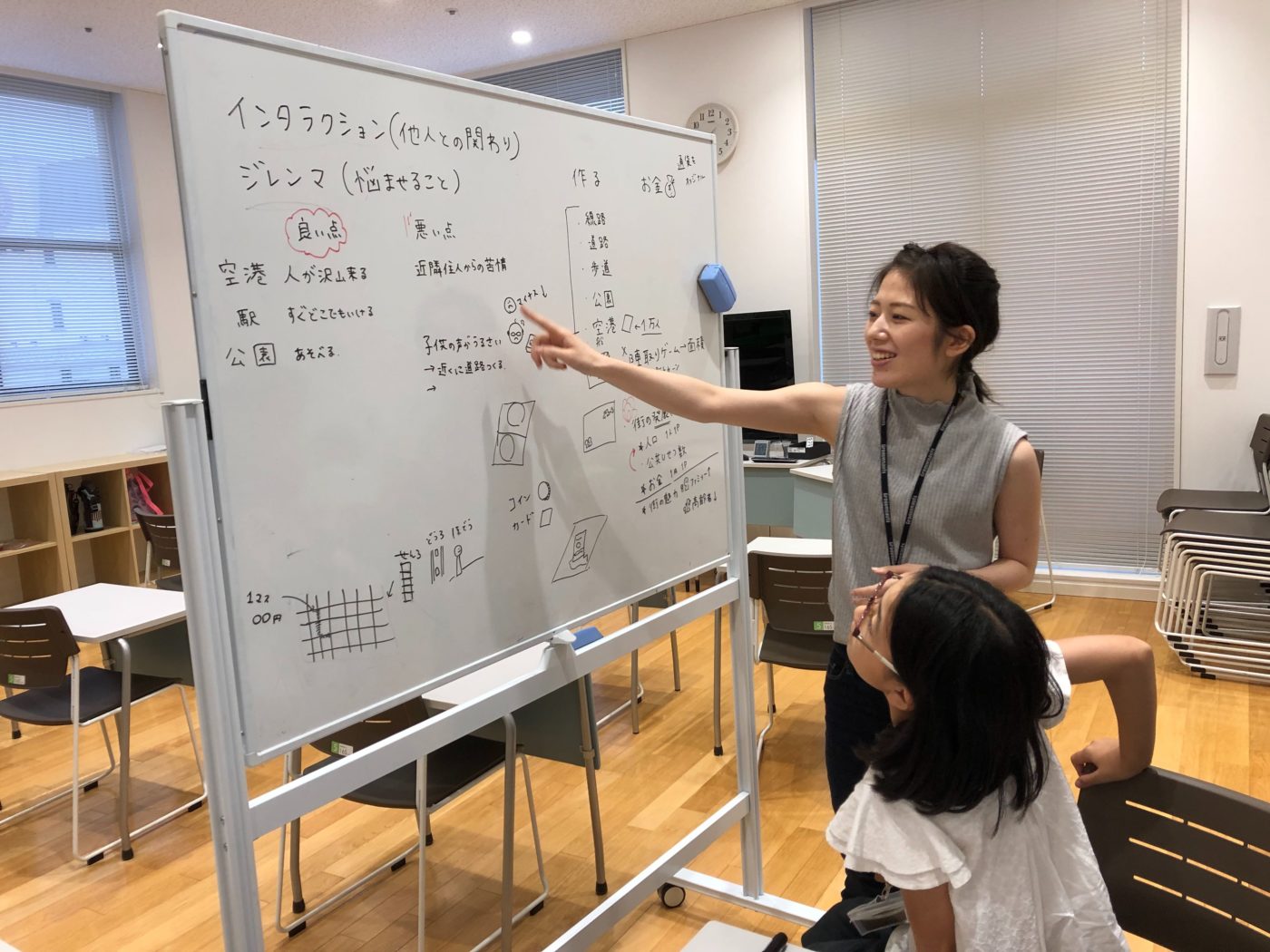 It was hard to come up with ideas about big concepts like SDGs and city planning, so we started by focusing on just Fukuoka, the city we live in. As we wrote down our impressions of the city and researched SDG efforts in the area, we gradually came up with a plan to make a board game set in Fukuoka.
The game works like this:
Each player is a newspaper reporter and travels around the board to different areas to gather information to solve the problems facing each region. As you gather information, you may be questioned by police, have your home searched, or other events. You win the game by successfully dodging the police, gathering information, and publishing your newspaper. It's a cooperative game, so players need to make use of each other's talents and work together to beat the game.
---
Bringing an idea to life
With high-tech machines like a laser cutter and 3D printer, TECH PARK is an environment where kids can bring their ideas to life with the help of our knowledgeable staff. We made test cards with construction paper and printed out the game board as we tried out ideas and made improvements.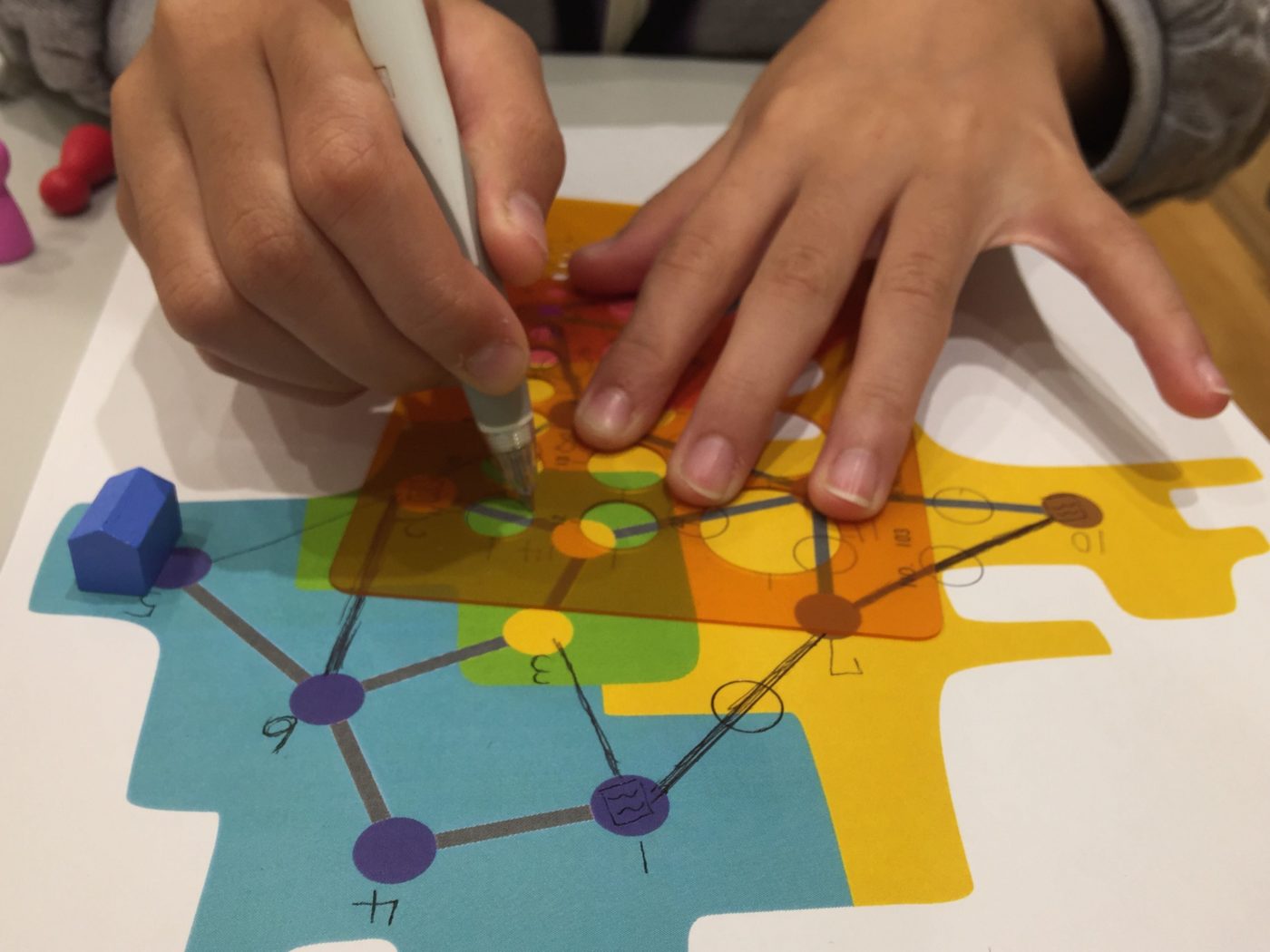 "This rule makes it impossible to win..."
"We'd better come up with a new rule for this..."
There were lots of situations like that that we couldn't have figured out without doing testing.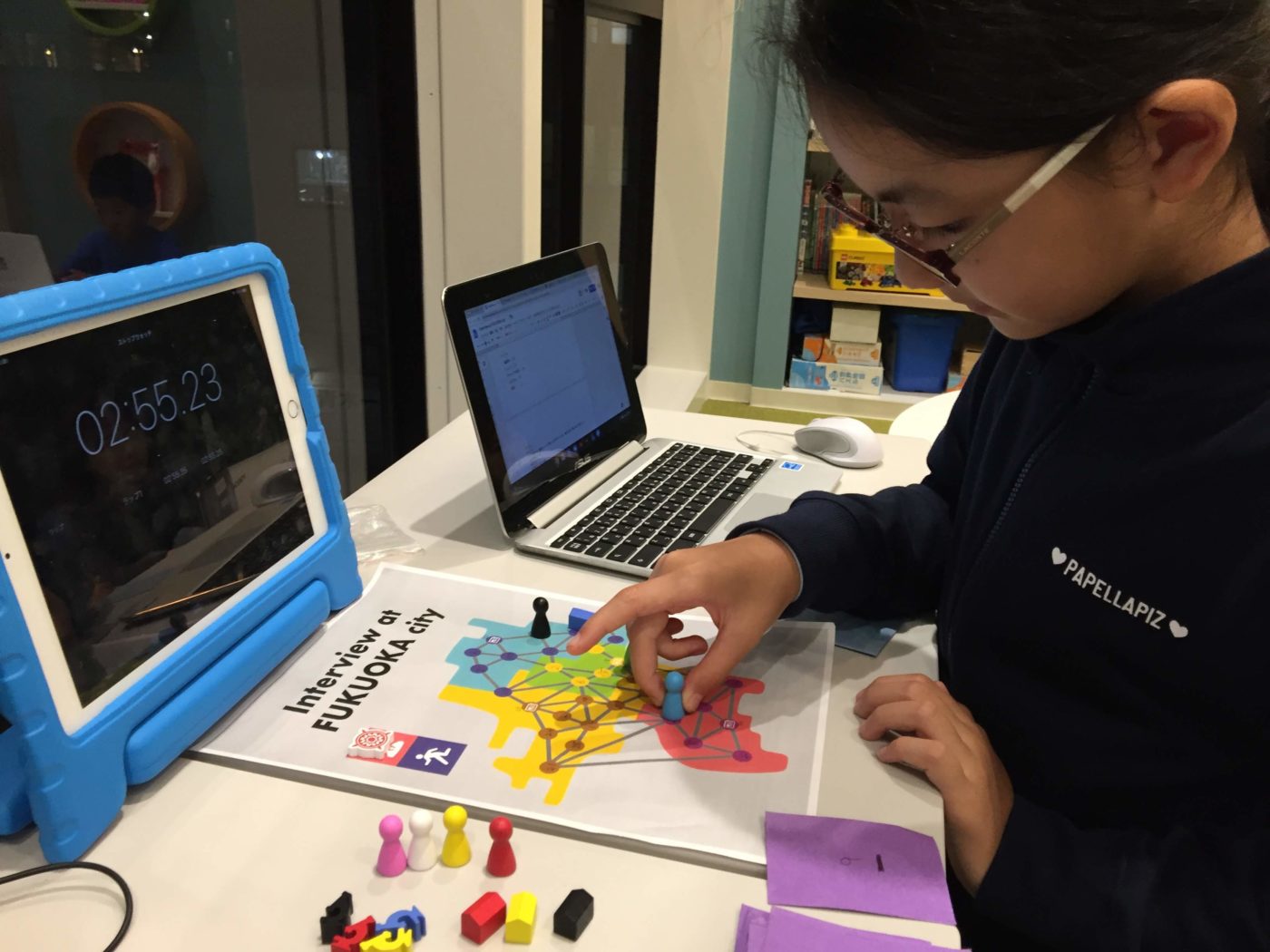 We have a CG course every Friday at TECH PARK where kids work on 2D and 3D computer graphics. They use modeling tools to learn the fundamentals of 2D and 3D design.
For this project, we used the 3D modeling software TinkerCAD to plan the pieces for the players, then exported the designs to the 3D printer. It took about 20 minutes for the 3D printer to print each piece. The neck was too skinny on the first piece we printed and the head fell off, so we had to adjust our design and try again! One of the best things about the 3D printer is that you can quickly make adjustments and try again if something doesn't go right.
After lots of trial and error, we were able to get our game done just before the deadline!
We had to make sure it was okay, so we played it with everyone. The kids had fun dodging the police, figuring out who should move where to get info as quickly as possible, and generally praising each other and working together to win the game.

---
The awards ceremony and judge's feedback
The awards ceremony for the contest took place at Tokyo Midtown on November 23rd. There were 5 special prizes awarded from among a total of 30 entries (17 individuals and 13 teams). Entrants ranged from students to adults with a particularly large number of high schoolers, with our team being the only elementary schooler to win a prize.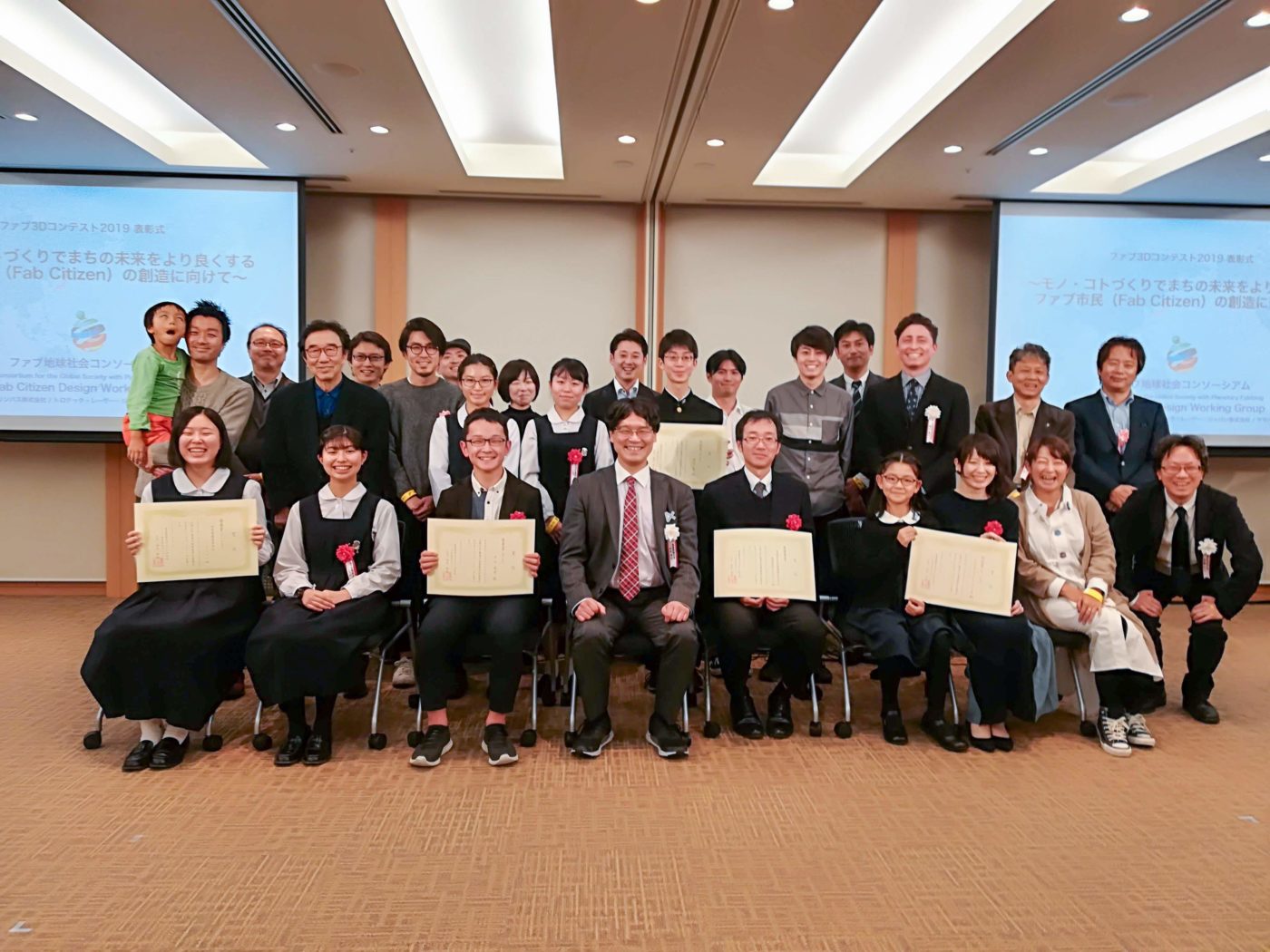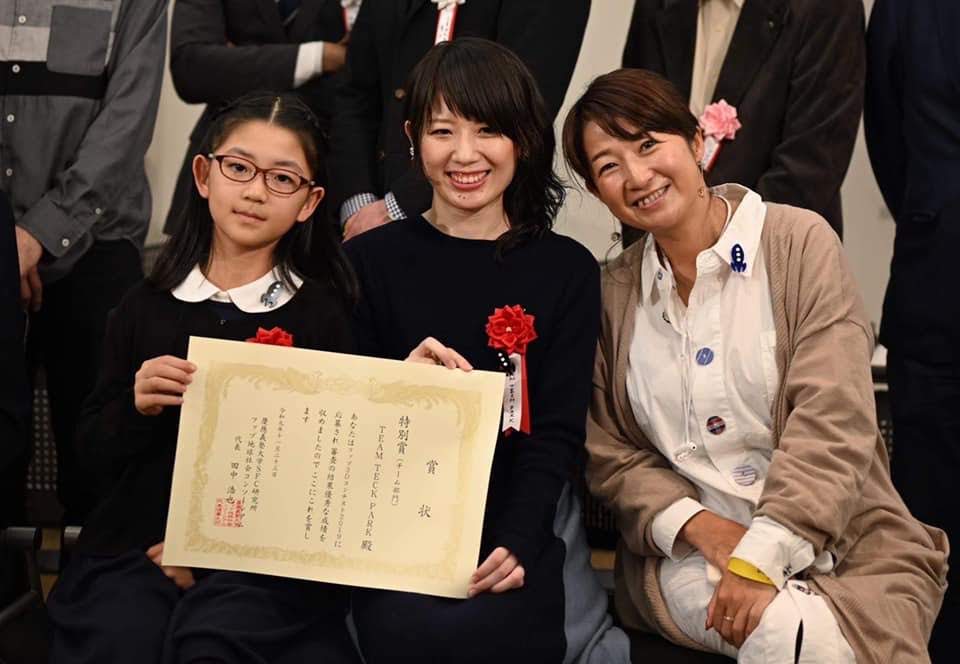 ---
The judges had the following remarks about our entry:
"This entry did a fantastic job of not only making an object, but also from the perspective of making ideas. I think other cities could also use this same framework of combining discovering local challenges with game components."
"It's ingeniously crafted to be full of fun, and it's interesting to see unique rules like the police questionings and home searches that adults wouldn't come up with. It's also great that children can learn about SDGs before adults and be their teachers. "
The judges had high praise for being able to learn about SDGs and local regions while playing the game. We also saw this during our test plays when friend's had fun playing on the Fukuoka game map and learning geography while asking questions like "Where is Asakura?"
Of course, hearing friends say they enjoy the game was great, but I think getting the judge's feedback at the awards ceremony was a truly wonderful experience for T.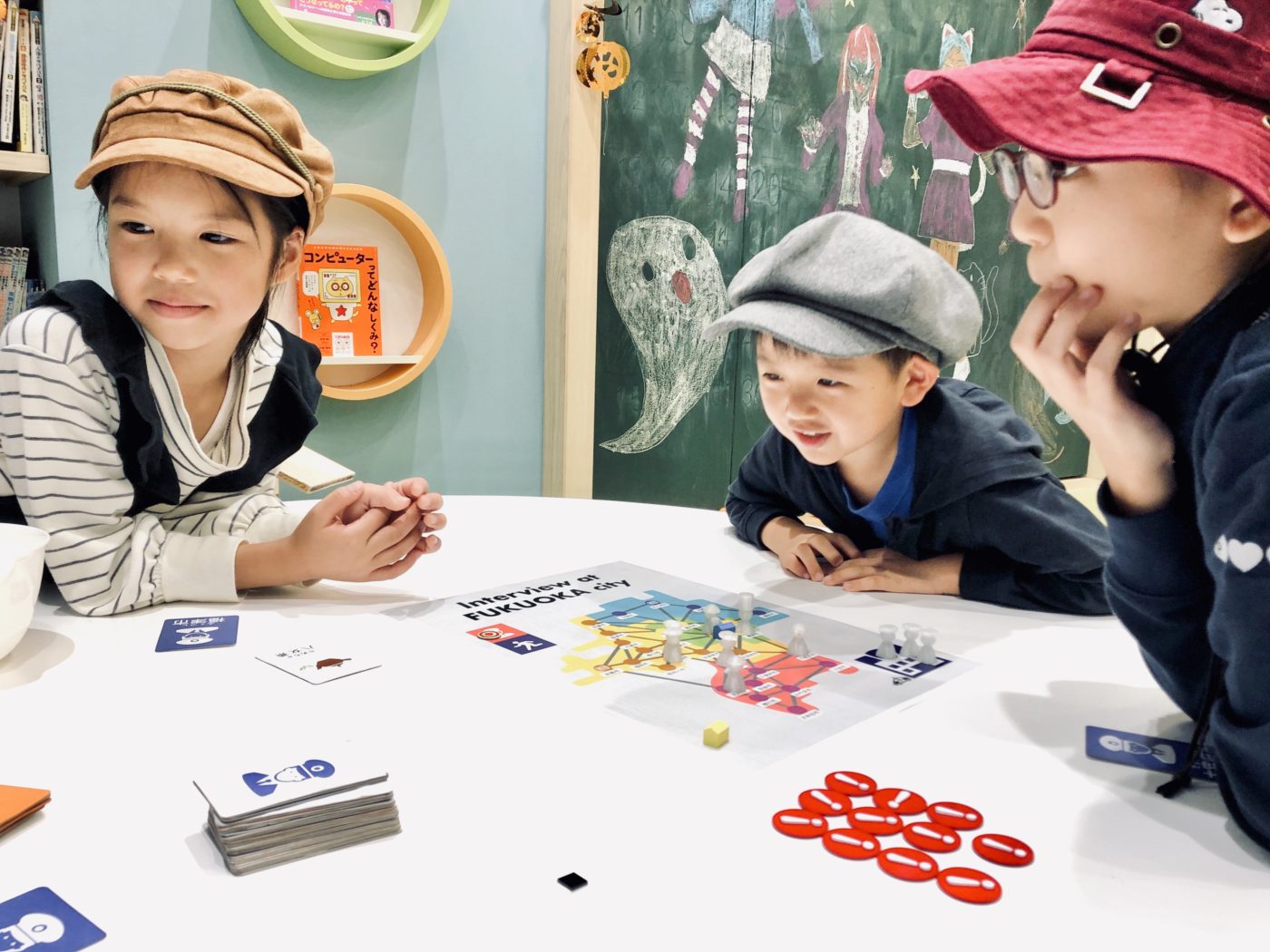 ---
Our goals at TECH PARK
A simple desire to make a board game led to winning this prize. T was able to work happily on her project since she was the one who chose what to do on her own.
At TECH PARK, we place a lot of importance on being able to think for yourself and find your own answers.
Sometimes there are days when things don't go well at school or you get tired of a lecture and you think, "I don't want to do this activity today." When that happens, kids think and decide on something else to do without being forced. By thinking for themselves, kids are more agreeable and also gain a sense of responsibility over their decision. When we blame others we lose the chance to grow ourselves.
We think it's important to help kids study and test out all kinds of things they want to try. That's why we'll continue to do our best to support them in what they want to learn and create.
If you're interested, check out more details about T and Ms. Ayumi's project on their fabble page linked below!